All proceeds being donated to Building Homes for Heroes & Habitat for Humanity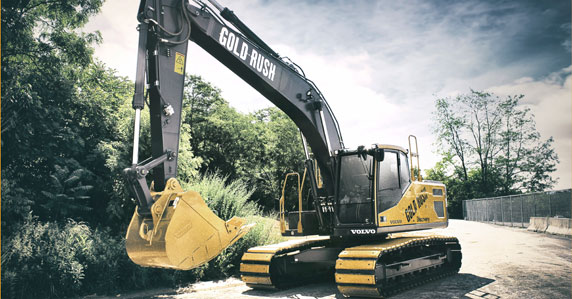 To celebrate the 10th season of Gold Rush on Discovery Channel and its new EC200E crawler excavator, Volvo has donated a special gold-painted EC200E to be sold in Ritchie Bros.' massive February 2020 Orlando auction, with all proceeds donated to Habitat for Humanity and Building Homes for Heroes.
"Volvo CE wants to support groups that build and modify homes for families who need assistance, so they can have a safe home and a better tomorrow," said Dave Foster, vice president, marketing and communications, Volvo Construction Equipment Americas. "The volunteers at these organizations give their time and talents, outside of their daily jobs, because they are committed to helping others have one of the most basic human needs: a safe, comfortable place to live."
Gold-painted prize autographed by Gold Rush stars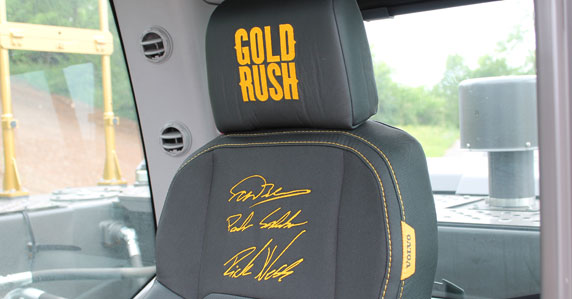 Volvo excavators have been reliable workhorses for Gold Rush teams from the beginning. Volvo's newest model, the EC200E — the same model as the golden excavator — offers a maximum digging reach of 32 feet 9 inches, a maximum digging depth of 22 feet 3 inches, and a lifting capacity of 16,138 pounds, making it ideal for the rugged work the Gold Rush teams complete each day.
The Gold Rush excavator is currently touring across Volvo CE dealerships in the U.S. and Canada. Highlights on this unique machine include a paint job with millions of bits of mirror, custom-made gold track pads, and a unique embroidered leather seat with the Discovery Channel and Gold Rush logos, as well as signatures of the show's stars.
Vote online for selected charities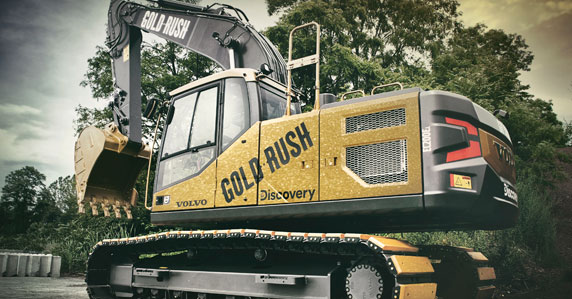 The Gold Rush Excavator will be auctioned at the Ritchie Bros. Auctioneers event in Orlando during the auction February 17-22, 2020. Each of the non-profit organizations will receive a portion of the proceeds, based on number of votes. To cast your vote, go to http://www.discovery.com/GiveBig.
Here's a little more info about the charities:
Building Homes for Heroes — For five consecutive years, Building Homes for Heroes has met the goal of gifting, on average, one home every 11 days to injured veterans and their families across the United States. Above and beyond building homes, the nonprofit helps veterans reach dreams they never imagined, when injured, including finding employment and starting new businesses, winning gold medals in the Warrior and Invictus Games, pursuing higher education, and conquering the world's toughest terrain on the highest mountains, plus so much more.
Habitat for Humanity — Driven by the vision that everyone needs a decent place to live, Habitat for Humanity works in local communities across all 50 states in the U.S., and in more than 70 countries. Families and individuals in need of a hand up partner with Habitat for Humanity to build or improve a place they can call home. With the help of volunteers Habitat homeowners contribute sweat equity to build their own homes, and they pay an affordable mortgage.