Sell where the equipment world comes to buy.
Global buyers flock to Orlando because we know how to attract the largest, most competitive bidding audience to our auctions – and get you the best returns possible. Our upcoming Orlando auction in February (17-22) promises to be a global event where you can get the best prices for your equipment. Here's a look at what to expect at Orlando 2020.
Top 5 reasons to sell at Orlando 2020
1. More buyers, better results – Our auctions attract thousands of local, national and international buyers from all different industries, both end-users and dealers. And because we offer onsite and online bidding – including PriorityBid, which allows people to bid online up to a week before the auction – you reach every potential buyer. More buyers and more ways to bid means better results for you.
2. Maximum value from end-users – We attract buyers from areas of high demand around the world – meaning you get the best returns on auction day. And most of the buyers at our auctions are end-users–they're motivated to buy and will usually pay more to get the equipment they need.
3. Local service, global reach – You can count on unparalleled customer service from your local reps who know your industry and your market. And with our global marketing and auction network, we can help you reach buyers from around the world.
4. More money to spend – Financing is great for buyers, and good for sellers, too. Ritchie Bros. Financial Services has pre-approved our customers for over $1.6 billion in financing in 2018–giving bidders more purchasing power on auction day.
5. Proven results – We've sold over $3.4 billion of equipment in Orlando for thousands of satisfied sellers. No other company has a track record like that.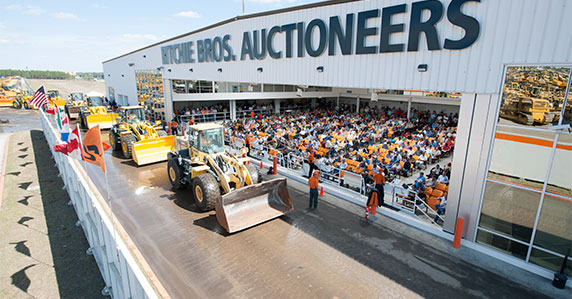 Top buyer markets at Orlando.
It's not an understatement to say we welcome the world to Orlando. Last year we welcomed close to 16,000 bidders from 86 countries, and with over 70% registering to bid online. Here's the top regions from Orlando 2019 where demand was the highest:
Top 5 International Regions
Mexico
Australia
United Arab Emirates
Colombia
Ecuador
Top 5 Local Regions
Florida
Texas
Georgia
California
Pennsylvania